In Paul's Epistle to the Philippians, chapter 4, he describes how Christians can overcome worry and worldly desires, regardless of their circumstances. By making a purposeful decision to be content, we believers can trust God to provide our true needs. And we will not be consumed with materialism or anxiety.
Vs. 11: Learned to be Content
Paul reminded the Philippians that his thankfulness for the Philippians' giving wasn't because he was needy (though he was in fact in need), but because it was good for them to be givers. He was not writing these words because he needed more from them.
Paul wanted to show that he was humble, and content. He could exist with or without earthly needs being met beyond basic essentials (Philippians 4:12). Because Paul learned to be content, he could say that his thankfulness was not based upon his own need. Even though he was in need, he was content where he was at – even in his Roman imprisonment.
In addition to living humbly, Paul focused on the concept of contentment, regardless of his circumstances.
Paul had to learn contentment because contentment isn't natural to mankind. Rather, it is a learned skill. Paul's variety of ministry experiences had offered him times of plenty, as well as times of need. This allowed Paul to learn how to find joy, regardless of his circumstances.
Writing from Roman imprisonment, he was at a time of great need. Even so, Paul expresses joy and contentment. It's important to recall that his imprisonment was not brief. He had been continually held for two years in Rome, in addition to multiple years in Palestine. Contentment was essential for Paul to find any joy in his circumstances.
______________Affiliate link – SHOP: _______________
_This ad is for my favorite version of The Bible _
_____but click on it to go to the whole store______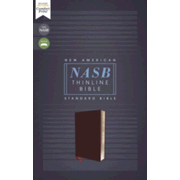 NASB Comfort Print Thinline Bible, Red Letter Edition–bonded leather, burgundy (click here)
By Zondervan


The beloved 1995 Edition of the New American Standard Bible is now easier to read with Zondervan's exclusive NASB Comfort Print® typeface. This edition of the NASB Thinline Bibles is available in a variety of sophisticated designs in a portable, easy-to-read format.
Features:

The full text of the New American Standard Bible, 1995 Edition
Exquisite, durable covers
Less than one inch thick
Double-column format
Presentation page
Two satin ribbon markers
Words of Christ in red
Exclusive Zondervan NASB Comfort Print 9 point type
____________________________________________
<!—WordPress theme is not consistent in h2 style -->
Consider the Daily Bread email message sent on 2/9/2009 and 10/16/2023 which says,
Philippians 4:11 – Not that I speak from want, for I have learned to be content in whatever circumstances I am. (NASB)
Paul appreciated the gifts from Philippi, but he had learned to be thankful for the many small gifts from God. Life's great moments are not necessarily huge accomplishments strived long and hard. But often the greatest pleasure is in the pure contentment of small pleasures enjoyed now. Sometimes our prayers become too much asking and not enough thanking for gifts already bestowed. Many of us need to learn to be content and simply offer thanks for the little gifts and blessings that surround us most of the time.
<!—WordPress theme is not consistent in h2 style -->
You Can Receive The Daily Bread, for FREE
To receive the Daily Bread email messages, free on Mon., Wed., and Fri., in your email inbox, just fill in the form below or send an email, and ask to be added, to  
Click Here to Scroll To Top of the Page
/