By understanding the significance of focusing your thoughts on God, you can cultivate a sense of calm and resilience in the face of life's challenges. Scripture emphasizes the peace and strength found in maintaining a steadfast focus on God. Isaiah 26:3 offers profound insight into the components of that perfect peace. This verse emphasizes finding inner peace and stability through unwavering faith.
<!—WordPress theme is not consistent in h2 style -->
Isaiah 26:3 – Perfect Peace
Isaiah 26:3 is known as the perfect peace scripture.
Verse 3, in the NASB, begins with "The steadfast of mind …". The spiritual meaning of steadfast is to be firmly fixed and not subject to change, to be firm in belief and determination, and to be loyal and faithful.
We need to have an upright spirit, a steadfast spirit, a spirit that is immovable, unshakable, standing constantly firm and steady. To be immovable is to be unyielding and incapable of being moved or diverted.
In Hebrew, the term "perfect peace" is "shalom shalom." In Hebrew, repetition communicates intensity. It emphasizes that it is not just ordinary peace but "perfect peace." It's as if God is going above and beyond to assure us of His peace. Instead of providing us with just one door of peace to walk through, He opens double doors of peace, saying "Shalom shalom." This repetition signifies the abundance and completeness of the peace that God offers us.
Shalom (Hebrew: שָׁלוֹם šālōm; also spelled as sholom, sholem, sholoim, shulem) is a Hebrew word meaning peace, harmony, wholeness, completeness, prosperity, welfare, and tranquility.
Shalom can be used idiomatically to mean both hello and goodbye or meaning to be well, happy, friendly, healthy, and prosperous. It means to be whole or complete.
The first step in experiencing the peace of God during the storms of life is to fix our minds on God. Perfect peace is complete peace and is guaranteed when we focus on Jesus.
Some can have fleeting peace and they are never kept there. Others are kept in peace that is not perfect, in the peace of the wicked, the peace of spiritual sleep and ultimate destruction.
When we keep our minds stayed, settled upon and established upon, the LORD Himself, then we can be kept in this perfect peace.
To be kept in this perfect peace is a matter of our mind. This isn't so much a matter of our spirit or of our soul or of our heart. We are to love the LORD our God with all of our mind (Matthew 22:37). We are transformed by the renewing of our mind (Romans 12:2). We can have the mind of Christ (1 Corinthians 2:16, Philippians 2:5).
We are not to set our mind on earthly things (Philippians 3:19), but to set our mind on things above (Colossians 3:2).
The Christian life is not an unthinking life of just doing, or experiencing, but it is also about thinking. Where we set our mind is essential in our walk before the Lord.
To be kept in this perfect peace, our mind must be "stayed." In Strong's Dictionary, the Hebrew word "sawmak" comes from the root "to prop," and has the idea "to lean upon or take hold of…bear up, establish, uphold, lay, lean, lie hard, put, rest self, set self, stand fast, stay (self), sustain."1 In other places the same word is translated as "sustained" (Genesis 27:37, Psalm 3:5), or when the priest would put their hand s on the head of a sacrificial animal (Exodus 29:10, 15, 19), or of the laying on of hands in other circumstances (Numbers 27:18), of being upheld (Psalm 71:6), to stand fast upon (Psalm 111:8), of being established (Psalm 112:8), of leaning upon (Isaiah 36:6, 48:2).
To have this perfect peace, your mind cannot occasionally come to and lean upon the Lord; it has to be stayed on Him.
"Because He trusts in you" is another way of expressing the idea of keeping our minds focused on Him. Almost always, you keep your mind stayed on whatever you are trusting.
Proverbs 3:5 expresses this same idea: "Trust in the Lord, and lean not on your own understanding." The word for "lean" in Proverbs 3:5 comes from the same root as the word "stayed" in Isaiah 26:3. To lean on the Lord is to trust Him. To be sustained by the Lord is to trust Him. To be established by the Lord is to trust Him. To be upheld by the Lord is to trust Him.
The battle for trust in our lives begins in our minds. If we trust the LORD, it will show in our actions, but it will begin in our minds.
God isn't subject to our definition of Him or our idea of Him. When we trust in God, we learn about Him and grow in our knowledge of Him. He defines reality, not the other way around.
<!—WordPress theme is not consistent in h2 style -->
In Conclusion –
Isaiah 26:3 provides profound wisdom on the essence of perfect peace. It emphasizes the importance of maintaining a steadfast mind that is unwavering in trust and devotion to God, who keeps them in perfect peace.
______________Affiliate link – SHOP: _______________
_This ad is for my favorite version of The Bible _
_____but click on it to go to the whole store______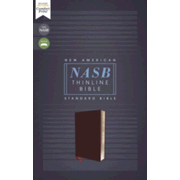 NASB Comfort Print Thinline Bible, Red Letter Edition–bonded leather, burgundy (click here)
By Zondervan


The beloved 1995 Edition of the New American Standard Bible is now easier to read with Zondervan's exclusive NASB Comfort Print® typeface. This edition of the NASB Thinline Bibles is available in a variety of sophisticated designs in a portable, easy-to-read format.
Features:

The full text of the New American Standard Bible, 1995 Edition
Exquisite, durable covers
Less than one inch thick
Double-column format
Presentation page
Two satin ribbon markers
Words of Christ in red
Exclusive Zondervan NASB Comfort Print 9 point type
____________________________________________
<!—WordPress theme is not consistent in h2 style; matching h3 w/h2 -->
Consider the Daily Bread email message sent on 3/4/2009 and 11/6/2023 which says,
Isaiah 26:3 – The steadfast of mind You will keep in perfect peace, because he trusts in You. (NASB)
Isaiah is presenting a song that will be sung in Juda, by the redeemed remnant. They will praise God who keeps them in perfect peace, the peace "which passeth all understanding (Philippians 4:7)." The specific application is to the faithful in Israel, but the principle is true for all believers in all ages.
The components of perfect peace include a steadfast mind which refers to an unwavering trust and devotion, where the mind remains anchored to the Lord regardless of circumstances.
Anyone who teaches, parents, heals, ministers, or serves anyone else in Christ's name knows the truth in St Augustine's (354-430 AD) teaching on the division of labor between God and His children. Augustine wrote that we should work as if everything depended on our efforts and pray as if everything depended on the Almighty. So, it is that we, like good farmers, should do the planting of the seeds and then stay our minds on Him and trust God to do the growing. All us believers need to be planters of seeds, tillers of prayers, and fillers of need.
<!—WordPress theme is not consistent in h2 style -->
You Can Receive The Daily Bread, for FREE
To receive the Daily Bread email messages, free on Mon., Wed., and Fri., in your email inbox, just fill in the form below or send an email, and ask to be added, to  jmikeh@jmhowington.com
Click Here to Scroll To Top of the Page
<!—WordPress theme is not consistent in h2 style --> References:
James Strong, A CONSISE DICTIONARY OF THE WORDS IN THE HEBREW BIBLE; WITH THEIR RENDERINGS IN THE AUTHORIZED ENGLISH VERSION, https://www.questionsgod.com/word-pdf/strongs-hebrew-dictionary.pdf; and Hebrew and Greek search tool: https://web.archive.org/web/19990429013255/http://www.tgm.org/bible.htm
Note:Dr. James Strong (August 14, 1822 – August 7, 1894) was an American Methodist academic, biblical scholar, lexicographer, Methodist theologian and professor, best known for being the creator of Strong's Concordance.