According to Paul's First Epistle to the Thessalonians Chapter 5 Verse 11, Christians should let the prospect of spending eternity with Jesus motivate them to encourage and edify one another. Instead of being dismayed as world events unfold, we should remind one another that a better day lies ahead. We look forward to the day when Jesus arrives to rapture His church.
<!—WordPress theme is not consistent in h2 style -->
1 Thessalonians 5:11: Our privilege: comfort one another.
Paul again tells us not to take comfort, but to give comfort. If all Christians have a heart to comfort each other, then all will be comforted. And to edify one another: To edify means to build up. When we have our first interest in building up other Christians, then God will edify us. The idea is of a church full of active participants, not passive spectators.
Hiebert wrote: "It is clear that in the primitive churches the care of souls was not delegated to an individual officer, or even the more gifted brethren among them; it was a work in which every believer might have a share." 1
It wasn't that there was no comfort among the Thessalonians, or as if no one was edified. But they needed to continue to comfort others and to do it more and more.
Rev. Joshua Becker gave 10 simple ways to build each other up:
Esteem others higher. Leaders esteem others higher than themselves. They have high regard, great respect, and favorable thoughts of the people in their circle of trust and influence.
Be wise in your speech. Communicate more effectively by thinking before you speak. If there's a word that's more appropriate in a conversation, use it. Start with praise. Never confront others. Instead, point out how both of you can make things better. Speak at the same level as your audience; giving them due respect. There's no need to come in with an authoritarian voice to get your message heard.
Be encouraging. Encouragement is an expression and assurance of one's hope and future in words, presence, and sincerity.
Be quick to forgive. When others make a mistake, be quick to forgive and forget; releasing them from guilt and shame.
Be understanding. Wisdom and understanding go hand in hand. Understanding starts by being an active listener, not planning a reply as one is speaking, asking intelligent questions to gain further insights, and being accepting of what the speaker is sharing. Then, answer without condemning. Or don't answer at all and decide to just be a listening ear.
Zero gossip. Keep others' secrets. Never speak stuff that causes unnecessary hurt to others by speaking unclaimed rumors behind their back.
Share knowledge. Share with your friends. Sharing has been made easier thanks to the accessibility of sharing tools on the web, along with help from social media sites such as Twitter and Facebook. Sharing knowledge helps us learn, discover, and understand interesting things. They have immediate application for better results in our work and life, edify our souls, and improve our daily conversations.
Stay humble. Humility and maturity are synonymous. A dignified person accomplishes much, but brags little. They are secure in their standing without needing to make noise, often treating everyone with tremendous respect, regardless of position.
Be positive! Positive thinking goes beyond having the drive and motivation for personal success. Positive thinking is explicit, definite, and outspoken. It's contagious. Build up your loved ones with your positivity, allowing them to be open for better things to come.
10. Love. "Love is patient, love is kind. It does not envy, it does not boast, it is not proud. It is not rude, it is not self-seeking, it is not easily angered, and it keeps no record of wrongs. Love does not delight in evil but rejoices with the truth. It always protects, always trusts, always hopes, always perseveres. Love never fails … And now these three remain: faith, hope, and love. But the greatest of these is love." (1 Corinthians 13, NIV). Building up a person with the 9 ways mentioned is only made effective when done so together with love. Care for your loved ones how you would want to be cared for. Build up one another how you would like to be inspired. As a result, you will move up to a whole new level of breakthroughs in life. 2
Christians should go one step further, and visualize how and to whom they can build up and inspire changes for the better. Then work towards making that a reality.
If you want to stand out at work, one trait will put you head and shoulders above everybody else: Be an encourager.
<!—WordPress theme is not consistent in h2 style -->
In Conclusion
In conclusion, the importance of encouraging and edifying one another, as emphasized in 1 Thessalonians 5:11, cannot be overstated. By uplifting and supporting each other, we create a positive Christian environment. The acts of kindness strengthen our relationships, draw us closer to Jesus, and contribute to our personal and collective well-being. Let us strive to be a source of encouragement and edification for those around us, as it is through such actions that we can truly make a difference in the lives of others. Together, we can make a difference and create a world filled with faith, love, encouragement, and edification.
______________Affiliate link – SHOP: _______________
_This ad is for my favorite version of The Bible _
_____but click on it to go to the whole store______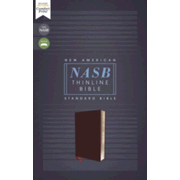 NASB Comfort Print Thinline Bible, Red Letter Edition–bonded leather, burgundy (click here)
By Zondervan


The beloved 1995 Edition of the New American Standard Bible is now easier to read with Zondervan's exclusive NASB Comfort Print® typeface. This edition of the NASB Thinline Bibles is available in a variety of sophisticated designs in a portable, easy-to-read format.
Features:

The full text of the New American Standard Bible, 1995 Edition
Exquisite, durable covers
Less than one inch thick
Double-column format
Presentation page
Two satin ribbon markers
Words of Christ in red
Exclusive Zondervan NASB Comfort Print 9 point type
____________________________________________
<!—WordPress theme is not consistent in h2 style; matching h3 w/h2 -->
Consider the Daily Bread email message sent on 3/4/2009 and 11/6/2023 which says,
1 Thessalonians 5:11 – Therefore encourage one another and build up one another, just as you also are doing. (NASB)
<!—WordPress theme is not consistent in h2 style -->
You Can Receive The Daily Bread, for FREE
To receive the Daily Bread email messages, free on Mon., Wed., and Fri., in your email inbox, just fill in the form below or send an email, and ask to be added, to jmikeh@jmhowington.com
<!—WordPress theme is not consistent in h2 style -->
References:
David Edmond Hiebert, 1 & 2 Thessalonians, (Winona Lake, IN: BMH Books, 1996)
Note: Dr. David Edmond Hiebert (1928-1995) was professor emeritus of New Testament at Mennonite Brethren Biblical Seminary in Fresno, Calif. He wrote widely on the New Testament. His theological stance is conservative, but it is not a blind conservatism since he is aware of the wide range of views that exist. His commitment to the infallible Word of God is unambiguous.
2. Joshua Becker, "About Becoming Minimalist," https://www.becomingminimalist.com/ten-simple-ways-to-build-each-other-up/
Note: Rev. Joshua Becker (born 1974) is an American author, writer, and philanthropist. Becker is a pastor at Christ Lutheran Church in Saginaw, Michigan. Becker attended graduate school at Bethel College and Seminary and completed a master's degree in theology.
Becker has written four books on minimalism and intentional living, which have collectively sold hundreds of thousands of copies and have been translated from English into several languages. He maintains the website Becoming Minimalist which was named one of the top ten personal development websites by SUCCESS Magazine in 2015.
Click Here to Scroll To Top of the Page