The argument over the soul's immortality vs. our body's immortality is a petty long-lasting debate, not a salvation issue. In other words, your salvation is not dependent on your belief either way.
Some teach that mankind cannot become immortal. There is a spiritual side of man/woman and this spirit is called the soul. It is the soul that goes on for eternity with God.
-Bull: There is a lot of the Bible that is symbolical, metaphoric or analogical. But we humans becoming immortal is stated in several passages that are not symbolic, metaphoric or analogical. (See the Daily Bread Message Below.) Furthermore, our God is a powerful God, whom we should not set limits on. If He wants our body to become immortal, then He shall have it.
The Consequences of Believing in Immortality
Again, this is not a salvation issue. You're free to decide for yourself. Jesus does not care and probably laughs at your debating this issue. As long as you believe in Jesus Christ as your savior, you will be saved for eternity with Him.
__________________ SHOP: ________________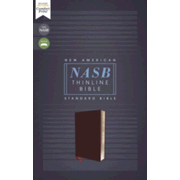 NASB Comfort Print Thinline Bible, Red Letter Edition–bonded leather, burgundy
By Zondervan


The beloved 1995 Edition of the New American Standard Bible is now easier to read with Zondervan's exclusive NASB Comfort Print® typeface. This edition of the NASB Thinline Bibles is available in a variety of sophisticated designs in a portable, easy-to-read format.
Features:

The full text of the New American Standard Bible, 1995 Edition
Exquisite, durable covers
Less than one inch thick
Double-column format
Presentation page
Two satin ribbon markers
Words of Christ in red
Exclusive Zondervan NASB Comfort Print 9 point type
____________________________________________
In conclusion, the Daily Bread email message sent on 9/5/2022 says,
1 Corinthians 15:51-53: Behold, I tell you a mystery; we will not all sleep, but we will all be changed, in a moment, in the twinkling of an eye, at the last trumpet; for the trumpet will sound, and the dead will be raised imperishable, and we will be changed. For this perishable must put on the imperishable, and this mortal must put on immortality. (NASB)
Yes, we will rise from the dead, but not as zombies wandering the earth. But as saved souls in the New Earth and the New Jerusalem. Some debate the immortality saying mankind cannot be made immortal and it is our souls that will become immortal. That is an unimportant distinguishment. But for the record, I believe in the Bible's declaration of man becoming immortal in Acts 4:12, Romans 6:23, 1 Timothy 6:13-16, 2 Timothy 1:10, and 1 Thessalonians 4:16. Giving mankind immortality is just a small miracle that our Farther, the creator of our world and us, can bring about in a flash. Such a miracle is promised in John 3:16. The Bible also makes it clear that being resurrected to immortality comes only through the gracious mercy of God.
You Can Receive The Daily Bread, for FREE.
To receive the Daily Bread messages, free on Mon., Wed., and Fri., in your email in-box, just fill in the form below or send an email, asking to be added, to jmikeh@jmhowington.com