Those who wish to win the lost and be successful in ministry must have rigorous self-discipline. It takes great effort and agony to win. The winner limits personal privileges and indulgences to reach people.
Paul's Race
Paul's passion was to preach Christ to Jews and Gentiles alike. When teaching non-Jews about the Lord Jesus, Paul used elements in everyday Gentile culture to lead them to a deeper knowledge of the truth of the glorious gospel of God. He used examples from farming, the military, cooking, and even popular athletic games.
Sporting events were big in Paul's day. This was especially meaningful to the Corinthians because their city was the center for the Isthmian Games, second in prestige to the ancient Olympics. One of the most famous Greek athletic festivals was held close by Corinth. Its prize was a pine wreath from the neighboring sacred grove. The painful abstinence and training of ten months, and the fierce struggle of ten minutes, had for their result a twist of green leaves.
Paul often uses figures from arena competitions (at least twelve different references in his letters), including examples of:
runners,
boxers,
gladiators,
chariot racers,
and trophies.
Paul tells us to train and compete as athletes who really want to win. Without effort, nothing can be won in a sporting event.
One Winner's Reward
Only one winner of the games is rewarded with a temporary, wreath of laurel leaves that will quickly fade, turn brown, and be discarded. This is very different from the imperishable reward that is the prize received by those who run the Christian race with patient endurance – who press toward the goal of the upward call of God in Christ Jesus our Lord.
All Who Run the Christian Race
Everyone who participates in the punishing training programs must exercise self-control in all things. They need to maintain a strict diet and be prepared to engage in a training schedule that pushes them to the peak of their mental and physical performance. "They do this," Paul reminds us, "to receive a perishable wreath." (2 Corinthians 9:15).
Such an athlete must refuse things that may be fine in themselves but will hinder the pursuit of his goal. For example, the Corinthians must refuse things that are fine in themselves (like meat sacrificed to idols), because having them may hinder the pursuit of the important goal: an imperishable crown, a heavenly reward that will never pass away.
The Imperishable Crown
Paul's 1st epistle to the Corinthians deems the winning crown as "imperishable" (1 Corinthians 9:25) to contrast it with the temporal awards Paul's contemporaries pursued. It is given to those individuals who demonstrate "self-denial and perseverance". Every believer who disciplines themselves and exercises self-control for the sake of Christ is promised an imperishable, incorruptible crown that will never fade away.
In the second epistle to the Corinthians, Paul declared: "Thanks be to God for his indescribable gift!" (2 Corinthians 9:15). The gift in this verse refers to salvation (Ephesians 2:8). We have done nothing to deserve this gift since God gives us salvation based on His unmerited favor.
A Believer's Goal
A believer's goal in life should be to meet others at their point of need and to share the truth of the gospel with whoever we come in contact. We should offer our lives as a living sacrifice and press on so that we may gain the imperishable reward that is ours in Christ Jesus our Lord
The Christian's reward is "imperishable." God does not grant this crown because we are nice, but because we warrant it. There is greater value in winning the Christian life than the monetary win of the Isthmian runner. That is why we go through strict discipline. We need to know our goal of pleasing God and how to get to that goal. God gives five different crowns for five different purposes:
The crown for a disciplined Christian life (1 Corinthians 9:25).
The crown for winning people to Christ (1 Thessalonians 2:19).
The crown for living a consistent Christian life. (2 Timothy 4:7, 8)
The crown for faithfulness under tribulation (James 1:12).
The crown to the faithful pastor of a local church (1 Peter 5:4)
My Prayer
Heavenly Father, thank you that all who live godly in Christ Jesus and exercise self-control in our Christian life are promised an imperishable crown that will never fade away. Help me to continue on for the call of God in Jesus Christ, my Lord, and help me to live and work for Your praise and glory. This I ask in Jesus' name, AMEN.
__________________ SHOP: ________________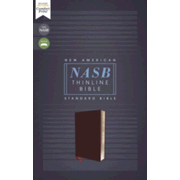 NASB Comfort Print Thinline Bible, Red Letter Edition–bonded leather, burgundy
By Zondervan


The beloved 1995 Edition of the New American Standard Bible is now easier to read with Zondervan's exclusive NASB Comfort Print® typeface. This edition of the NASB Thinline Bibles is available in a variety of sophisticated designs in a portable, easy-to-read format.
Features:

The full text of the New American Standard Bible, 1995 Edition
Exquisite, durable covers
Less than one inch thick
Double-column format
Presentation page
Two satin ribbon markers
Words of Christ in red
Exclusive Zondervan NASB Comfort Print 9 point type
____________________________________________
In conclusion, consider what the Daily Bread email message sent on 6/3/2008 says,
1 Corinthians 9:25 – Everyone who competes in the games exercises self-control in all things. They then do it to receive a perishable wreath, but we an imperishable. (NASB)
When you have accomplished something that required a great deal of your effort, talents or abilities, remember there is no such thing as a "self-made man."  Remember that without Him you can accomplish nothing (John 15:5).  When the microphone is thrust before your face, don't give the usual "I am great" speech or even the "my team is the greatest" speech that normally is given in the post-game show.  Instead, say: "Jesus is great.  Thanks be to God."
You Can Receive The Daily Bread, for FREE
To receive the Daily Bread email messages, free on Mon., Wed., and Fri., in your email inbox, just fill in the form below or send an email, asking to be added, to  jmikeh@jmhowington.com