Titus was a Gentile converted to Christianity by Paul.
Titus was with Paul in Ephesus and then is sent to Corinth to look into certain disorders in the church, and to initiate the offering for the poor saints in Jerusalem (2 Corinthians 8 6, 10).
After explaining the situation in Corinth to Paul, Titus is sent back to Corinth, ahead of Paul, with the second epistle to the Corinthians.
Some seven or eight years later, the epistle to Titus was written by Paul, in about A.D. 65. Paul wrote to Titus to instruct godly living and encouragement. Titus had been left in charge on the island of Crete (Titus 1:5).
Paul wrote the epistle to Titus and the first epistle to Timothy at about the same time, around A.D. 65. They deal with the same general subject, the appointment of proper leaders for Titus in Crete, and Timothy in Ephesus. The problem in both places was very much the same. 1
Titus in Corinth and Crete
Titus spent a lot of time in Corinth and was involved with the church there (2 Corinthians 8:6) while actively involved in Paul's ministry. Titus brought a fundraising letter from Paul to Corinth, to collect for the poor in Jerusalem. Titus organized the fundraising effort for the needy saints in Jerusalem (2 Corinthians 8:10-24).
Titus was consecrated as Bishop of the Island of Crete. According to Saint Jerome (342-420), the great priest and Bible translator, Titus was the literary assistant, taking dictation or copying manuscripts, for Paul's epistles (2 Corinthians).
Paul commissioned Titus to show how the good news of Jesus can transform Cretan culture from within. Paul's letter to Titus urged him to remind Cretan believers that while they live in a sinful culture, they can be transformed into a new humanity by the same grace that Jesus demonstrated when he died to redeem them.
The book of Titus reminds us that our beliefs about God impact every decision we make. Sometimes it is difficult for believers today to see the point of getting all worked up about the person and nature of Christ or the doctrine of the Trinity.
All Things are Pure
Paul wrote "all things are pure," in his letter to Titus. Of course, Paul does not mean that obvious sinful things (like pornography and illicit drugs) are pure. Paul has in mind those things which are permitted by Scripture but forbidden by legalists in a mistaken attempt to earn favor with God.
Paul was refuting the false teaching of the legalists concerning foods. They were teaching that the Jewish dietary laws still applied to Christian believers.3
To Christians, who are purified by the atoning death of Christ, "everything God created is good, and nothing is to be rejected if it is received with thanksgiving (1 Timothy 4:4)." The "everything" refers to all non-moral things, such as:
appetite and food,
desire and marriage,
exchange and commerce,
weariness and recreation,
and so on through all the varied realms of life.
To the pure all these things are pure. But to the impure, every one of them may be made the vehicle and occasion of sin. Note: the principle of this verse does not conflict with the many New Testament teachings against practices that are morally and spiritually wrong.
Sin includes pollution as well as guilt. The pollution shows itself in a defiled mind and conscience.4
Jesus said that it was not what goes into the body of a man but what comes out of his heart that defiles him. (Matthew 15:18) Inner purity produces outer purity. Jesus challenged the error of external purity in the gospels.
If a Christian's heart is clean, then his perspective on everything else is pure.
Christian Godly Pleasures are Not Sin
Titus had to confront difficult people with attractions to Jewish legalism. Those difficult people seemed to believe that nothing is pure. They denied Christians basic and godly pleasures of purity – those were sins.
Timothy had to deal with the same kind of people. Paul warned Timothy about those "men who forbid marriage and advocate abstaining from foods which God has created to be gratefully shared by those who believe and know the truth." (1 Timothy 4:3).
Paul knew that if a Christian walked in the purity of the Lord, these things were pure to him. But those of a legalistic mind (those who are defiled and unbelieving), believe nothing is pure. The problem was in their defiled and unbelieving minds and consciences, not with the things themselves. Consider: "The plowing of the wicked is sin," and even "the sacrifice of the wicked is an abomination" (Proverbs 21:4, 27).5
Unbelievers, especially ascetics with unbiblical scruples against certain foods, marriage, and the like (Colossians 2:21; 1 Timothy 4:3), do not enjoy the freedom of true Christians, who receive all God's creation with thanksgiving. Instead, they set up arbitrary human prohibitions against what they consider to be impure (Matthew 15:10, 11; 16-20; Acts 10:9-16; Romans 14:20).
To the pure at heart, everything may be pure. But the conscience may be defiled.6
__________________ SHOP: ________________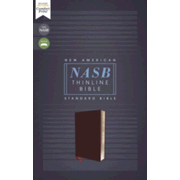 NASB Comfort Print Thinline Bible, Red Letter Edition–bonded leather, burgundy
By Zondervan


The beloved 1995 Edition of the New American Standard Bible is now easier to read with Zondervan's exclusive NASB Comfort Print® typeface. This edition of the NASB Thinline Bibles is available in a variety of sophisticated designs in a portable, easy-to-read format.
Features:

The full text of the New American Standard Bible, 1995 Edition
Exquisite, durable covers
Less than one inch thick
Double-column format
Presentation page
Two satin ribbon markers
Words of Christ in red
Exclusive Zondervan NASB Comfort Print 9 point type
____________________________________________
In conclusion, consider what the Daily Bread email message sent on 3/10/2023 says,
Titus 1:15 – To the pure, all things are pure; but to those who are defiled and unbelieving, nothing is pure, but both their mind and their conscience are defiled.  (NASB)
To Christians, who have been purified by the atoning death of Christ, "everything God created is good, and nothing is to be rejected if it is received with thanksgiving (1 Timothy 4:4)."
If a Christian's heart is clean, then his perspective on everything else is pure.
To receive the Daily Bread email messages, free on Mon., Wed., and Fri., in your email inbox, just fill in the form below or send an email, and ask to be added, to  jmikeh@jmhowington.com  
References:
1. Henry H. Halley, Bible Handbook (Grand Rapids, MI: Zondervan Publishing House, 1992), pg. 642.
2. Halley, pg. 641.
3. Wirsebe, Be Faithful: It's Always Too Soon to Quit, The Wiersbe Bible Study Series: 1 & 2 Timothy, Titus, Philemon (Colorado Springs, CO: David C Cook, 1/1/2009), pg. 27.
4. Henry C. Thiessen (revised by Vernon D. Doerksen), Lectures in Systematic Theology (Grand Rapids, MI: Eerdmans, 1981), pg. 174.
5. Morris, Henry, The New Defender's Study Bible (Nashville, TN: World Publishing Inc, 1995 and 2006) pg. 1881.
6. Thiessen, pg. 162