For King David, there were great advantages to praising God.  In every trouble, David went straight to God in prayer. On every deliverance, he went instantly to God in thanks and praise. 1
Psalm 34 tells of one such occasion. Psalm 34 is titled "A Psalm of David when he pretended madness before Abimelech, who drove him away, and he departed."
Thus, Psalm 34 is an individual hymn of thanksgiving of David sung on the occasion of the deliverance of his very life by God, perhaps as the ultimate word about God's help to those who are in need (a summary of all that could be said about God's help in the face of oppression and hurt).
Psalm 34
The structure of this psalm is an acrostic, or nearly so. Each verse begins with another letter of the Hebrew alphabet, except for the letter waw. The purpose of the acrostic format in this psalm mainly seems to be as a device used to encourage learning and memorization.
This psalm refers to the episode in David's life when, as a fugitive from Saul, he sought refuge in the court of Achish, king of Gath. Fearing that the Philistines would kill him or give him up to Saul, he feigned madness to ensure his release. 2
Those events are recorded in 1 Samuel 21: 10-22. Following that, David went to the cave at Adullam where desperate men joined him. Psalm 34 was probably written from that cave and sung in the presence of those men.
Abimelech was probably a title given to rulers among the Philistines, like the title of "Pharoah" or "Caesar." The ruler's proper name was Achish (1 Samuel 21:10).
It was supposed that the reference to Abimelech, in the title of the 34th Psalm, is a copyist's mistake for Achish. However, it is just possible that Abimelech was a general title for Philistine kings. In Genesis, Abimelech, king of Gerar, is mentioned in two different tales. The Genesis tales refer to a time before the coming of the Philistines, but the title may have lingered on, as Egyptian kings were called Pharaoh regardless of their name or dynasty. 2
Psalm 34:1-3 At Every Trouble
In Psalm 34 verse 1, David promises to praise the Lord, using a Hebrew phrase that literally means "at every time." No matter what the situation, David would praise God.
In verse 1 the words "to bless" or "barak" mean to "kneel down" or "adore with bended knees." David is saying that he will kneel before the Lord, worship, adore, praise, obey, and love the Lord
Given the title of this psalm "A Psalm of David when he feigned madness before Abimelech, who drove him away and he departed," and its historical setting, we see David triumphant and relieved at God's rescue when he was held by the Philistines.
David may have acted like a fool, but he was not so foolish as to neglect the praise of Him who was his only true wisdom. He may have been hiding in a dismal cave, but this psalm tells us that in his heart he was hiding in the Lord.
David might have boasted in himself. The 1 Samuel account describes how David cleverly won his freedom by pretending madness, but he knew that the working of the thing was due to God, not his own cleverness.
There is great scope for holy boasting in God! God's person, attributes, covenant, promises, works, and a thousand more things, are all incomparable, unparalleled, and matchless. While boasting of Him, we will never be convicted of vain and empty speech.
But in a sense, David had little to boast of, from a human perspective. He had to humiliate himself like a madman to escape the Philistines, whom he had foolishly sought refuge among.
David won his freedom by a radical display of humility. Humble people should be glad to hear how God blessed and rewarded David's humility.
This is a humble boast of David, boasting in the LORD and even a bit in his own humiliation. Paul, in his great passage on boasting, may have remembered this saying and this episode, and so recalled his own ignominious escape from another foreign king (2 Corinthians 11:30-33). Paul, the seeming idiot scribbling on the gate is now a saint, poet, and preacher, but looking back on the deliverance won by a trick, Paul thinks of it as an instance of Jehovah's answer to prayer!
After announcing his intention to bless the LORD at all times, David invites all the humble to join him in his song. Behind this lies the idea that the ideal praise to God is his assembled people joining their voices in thanking him.
Significantly, David calls the people of God in general the humble. It is as if being proud were a denial of God Himself – and in a sense, it is.
David knew there was something magnetic about the true praise of God. When one genuinely praises God, he or she wants to draw others into the practice of praise. If it is good for one to exalt His name, then it is even better to do it together with His people.
Christians not only magnify or glorify God, but they also exhort others to do likewise. They long for the day to come, when all nations and languages, laying aside their contentions and animosities, their prejudices and their errors, their unbelief, their heresies, and their schisms, will be heard as one, in magnifying and exalting their great Redeemer's name.
David thought praising God was to magnify Him or to make Him larger in one's perception. Magnification does not actually make an object bigger, and we can't make God bigger. But to magnify someone is to perceive it as bigger. That we must do that regarding the LORD God.
______________Affiliate link – SHOP: _______________
_This ad is for my favorite version of The Bible _
_____but click on it to go to the whole store______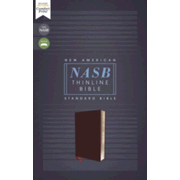 NASB Comfort Print Thinline Bible, Red Letter Edition–bonded leather, burgundy (click here)
By Zondervan


The beloved 1995 Edition of the New American Standard Bible is now easier to read with Zondervan's exclusive NASB Comfort Print® typeface. This edition of the NASB Thinline Bibles is available in a variety of sophisticated designs in a portable, easy-to-read format.
Features:

The full text of the New American Standard Bible, 1995 Edition
Exquisite, durable covers
Less than one inch thick
Double-column format
Presentation page
Two satin ribbon markers
Words of Christ in red
Exclusive Zondervan NASB Comfort Print 9 point type
____________________________________________
Consider the Daily Bread email message sent on 1/14/2009 and 7/24/2023 saying:
Psalm 34:1-3 – I will bless the LORD at all times; His praise shall continually be in my mouth. My soul will make its boast in the LORD; the humble will hear it and rejoice. O magnify the LORD with me, and let us exalt His name together. (NASB)
If we will commit to continual praise of the Lord, we who are afflicted may be encouraged. As we exalt the Lord more and more, His presence and truth will grow larger and more real in our hearts.
You Can Receive The Daily Bread, for FREE.
To receive the Daily Bread email messages, free on Mon., Wed., and Fri., in your email inbox, just fill in the form below or send an email, and ask to be added, to  jmikeh@jmhowington.com  
References:
Henry H. Halley, Bible Handbook (Grand Rapids, MI: Zondervan Publishing House, 1992), pg. 257.
Isaac Asimov, Asimov's Guide To The Bible – Two Volumes In One (New York, NY: Avenel Books, 1981), Pg. 511.