Google produces a list of Scripture when you ask, "Which 10 encouraging bible verses do I need to read each day?" The second passage on that list is Lamentations 3:22, 23. Today's Daily Bread email message very briefly explains that scripture that focuses on encouragement while repenting.
The tender compassion of God has never been absent even in the work of punishment.
Even in the severity of the correction God's people endured, there was evidence of His compassions. There was rich comfort in realizing that the tender affection of God was not completely spent.
These tender compassions are new every morning.
Each dawning day gives mankind hope in fresh mercies and compassions from God. We need a constant supply and God has promised to send them without fail. No matter how bad the past day was, God's people can look to the new morning with faith and hope.
Every time we wake up, God's mercies are new. This is another way of showing us that God's mercy will never run out. Regardless of how often you rely on God's compassion, there will be more for you tomorrow.
It is encouraging that God pours out His love for us and that His mercies are new every day. Every day is a new day in which we can move in a direction that defines our eternity. Our contentment is not found in the things of this world, but in God's constant and consistent mercy; His saving grace.
Just as people live with the certainty that the sun will rise in the morning; believers can trust and know that God's strong love and faithfulness will greet them again each day and His tender mercies will be renewed every morning.
All this made Jeremiah consider the great faithfulness of God. God never fails in sending His mercies and compassions. Even in their catastrophe, God was faithful. He faithfully announced His judgments and performed them, and God would prove to be just as faithful in His promised restoration.
______________Affiliate link – SHOP: _______________
_This ad is for my favorite version of The Bible _
_____but click on it to go to the whole store______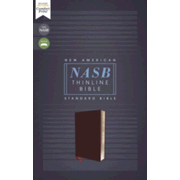 NASB Comfort Print Thinline Bible, Red Letter Edition–bonded leather, burgundy (click here)
By Zondervan


The beloved 1995 Edition of the New American Standard Bible is now easier to read with Zondervan's exclusive NASB Comfort Print® typeface. This edition of the NASB Thinline Bibles is available in a variety of sophisticated designs in a portable, easy-to-read format.
Features:

The full text of the New American Standard Bible, 1995 Edition
Exquisite, durable covers
Less than one inch thick
Double-column format
Presentation page
Two satin ribbon markers
Words of Christ in red
Exclusive Zondervan NASB Comfort Print 9 point type
____________________________________________
Consider the Daily Bread email message sent on 8/4/2023:
Lamentations 3:22, 23 – The LORD'S lovingkindnesses indeed never cease, for His compassions never fail. They are new every morning; great is Your faithfulness. (NASB)
Remember that, in Christ, the Lord will be faithful every morning with enough new mercy to get us through today's troubles, sin, and pain.
Whatever you've done, wherever you've been, God's mercies are new for you every morning. His steadfast love will never fail you. He's made a way for you to get back to him and live in the love, joy, and peace that he has for you
To receive the Daily Bread email messages, free on Mon., Wed., and Fri., in your email inbox, just fill in the form below or send an email, and ask to be added, to  jmikeh@jmhowington.com