Google produces a list of Scripture passages when you ask, "Which 10 encouraging bible verses do I need to read each day?" The fourth passage on that list is Isaiah 33:2. Today's Daily Bread email message very briefly explains that Isaiah, in that verse, provided encouragement.
Isaiah chapter 33 contains an account of God's judgments upon the enemies of His people and the peaceable, comfortable, and happy state of the church in the latter day.
Isaiah 33:2 Reminds Us That God Helps Us When We Are Weak
As the faithful remnant of Judah watched the destructive and treacherous Assyrian army approach Jerusalem (33:1), the prophet Isaiah and the pious Jews, contemplating the calamity/judgment coming upon their country, direct their prayer unto God for themselves and their people.
Isaiah seems to make himself the spokesman of the community, a thing which Isaiah rarely does.
"We have waited for thee" means we have looked for deliverance from this threatened invasion.
In light of the Assyrian threat and the longed-for deliverance of a righteous king, God's people no longer look to the Egyptians, they no longer look to themselves. Now, they look to the LORD, and cry out, "O Lord, be gracious to us."
Grace is one of the most highlighted virtues of God, and serves as a great reminder that in our daily lives, we ought to exercise grace towards others.
The mingling of prayer with prophecy is very unusual and indicative of a highly excited feeling. Isaiah fully realizes the danger to his people and nation and knows that without prayer there is no deliverance.
God's people aren't trusting in themselves anymore. They are waiting on the LORD and looking to His "arm every morning."
The arm is the symbol of strength. It is used in the Scriptures as emblematic of the divine protection, or the interposition of God in times of calamity and danger (Exodus 15:16; Job 40:9; Psalm 44:3; Psalm 77:15; Psalm 89:21; Psalm 98:1).
Isaiah is saying, "God, be gracious to us, we're waiting for you, be our strength every morning."
In mentioning the mornings, the prophet is thought to refer to the time of the morning sacrifice, which was the morning hour of prayer with the pious Jews; but he includes all other times of prayer, in all which he desires God to hear and answer His people, and to be their salvation all the day long, and especially to support them in the time of trouble.
God is our strength, for we are weak and needy.
Each morning, we'd be wise to call on God as our strength. Start the day in prayer; spend time in the morning in the Bible; commit each day to the Lord. Rather than rushing out the door in the morning, when you make time for prayer and devotion, it can make a huge difference in your day!
Do you sometimes have difficulty waking up in the morning to face the day? Perhaps you have changes to deal with at work or there is a person you must face with whom you have an unresolved conflict. Maybe you have been struggling with depression and your mind tends to wander while you are still in bed. Instead of counting your blessings, are you counting your curses?
Whatever challenges you are facing, start your day with the Lord who is "gracious" and kind. God understands you and your circumstances better than anyone. This is why He can be so gracious and compassionate with you.
God is gracious to us, He will be strength for us, specifically in time of trouble.
Isaiah 33:2 Leads Us to Praise God and Confess Our Weakness
Spiritually we are prone to temptation and sin. We need God's strength spiritually. We need God's physical strength, or emotional strength, amidst all kinds of challenges that maybe we are facing in our lives. Whether it's at home, at work, in the church, the community around us.
______________Affiliate link – SHOP: _______________
_This ad is for my favorite version of The Bible _
_____but click on it to go to the whole store______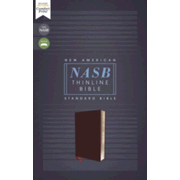 NASB Comfort Print Thinline Bible, Red Letter Edition–bonded leather, burgundy (click here)
By Zondervan


The beloved 1995 Edition of the New American Standard Bible is now easier to read with Zondervan's exclusive NASB Comfort Print® typeface. This edition of the NASB Thinline Bibles is available in a variety of sophisticated designs in a portable, easy-to-read format.
Features:

The full text of the New American Standard Bible, 1995 Edition
Exquisite, durable covers
Less than one inch thick
Double-column format
Presentation page
Two satin ribbon markers
Words of Christ in red
Exclusive Zondervan NASB Comfort Print 9 point type
____________________________________________
Isaiah 33:2 – O Lord, be gracious to us; we have waited for You. Be their strength every morning, our salvation also in the time of distress. (NASB)
Every morning, while we are surrounded by all kinds of temptations in the world, we need God's strength. And God hears that prayer.
To receive the Daily Bread email messages, free on Mon., Wed., and Fri., in your email inbox, just fill in the form below or send an email, and ask to be added, to  jmikeh@jmhowington.com