Assyria was cruel, and it was also greedy. Often Assyria conquered nations solely to plunder them. The Prophet Nahum likens Assyria to a prostitute, for it thought only of money and pleasure and gave no thought to morality.
The fall of the great city of Nineveh, in Assyria, should be a lesson to private persons, who increase wealth through fraud and oppression. (Nahum 3:1-7)
Re: Nahum 3 vs. 19
Nahum ended his prophecy with a view of the righteous and their triumph over the unrighteous. This is something that the people of God need to be repeatedly reminded of because it often goes against present appearances.
Because the city of Nineveh was so well known, even renowned, for its violence and cruelty, it is no wonder that Nahum sees the nations applauding when the city is judged and destroyed.
In Psalm 73, Asaph dealt with this same problem. It seemed to him that the wicked constantly prospered and lived at ease. It troubled him so much that he doubted his own walk with God, "Until I went into the sanctuary of God; then I understood their end. Surely You set them in slippery places; You cast them down to destruction. Oh, how they are brought to desolation, as in a moment! They are utterly consumed with terrors." (Psalm 73:17-19)
For Nahum, Asaph, and for us today, we take comfort in knowing that the judgments of the LORD are faithful and true.
There is no healing of the bruise made by the fatal blow given to the empire with the taking of Nineveh. The ruin of it was irreparable and irrecoverable. The city of Nineveh was no more, and the Assyrian empire sunk, and never rose again.
Or, verse 19 could be translated, "there is no contraction of thy bruise" as when a wound is healed, or near it, the skin round about is wrinkled and contracted. And Nahum says, "There is none that grieves at thy breach."
______________Affiliate link – SHOP: _______________
_This ad is for my favorite version of The Bible _
_____but click on it to go to the whole store______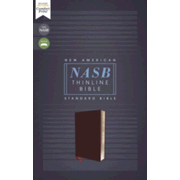 NASB Comfort Print Thinline Bible, Red Letter Edition–bonded leather, burgundy (click here)
By Zondervan


The beloved 1995 Edition of the New American Standard Bible is now easier to read with Zondervan's exclusive NASB Comfort Print® typeface. This edition of the NASB Thinline Bibles is available in a variety of sophisticated designs in a portable, easy-to-read format.
Features:

The full text of the New American Standard Bible, 1995 Edition
Exquisite, durable covers
Less than one inch thick
Double-column format
Presentation page
Two satin ribbon markers
Words of Christ in red
Exclusive Zondervan NASB Comfort Print 9 point type
____________________________________________
Nahum 3:19 – There is no relief for your breakdown, your wound is incurable. All who hear about you will clap their hands over you, for on whom has not your evil passed continually? (NASB)
Nahum records the destruction of the Assyrian empire and demonstrates how God will confront and bring down all violent human empires. This is about God's commitment to justice, which is as true today as it was in the time of Nahum.
God's judgment cannot be avoided, both for the good and the bad things we do.
And Nahum says, "there is none that grieves at thy breach."
To receive the Daily Bread email messages, free on Mon., Wed., and Fri., in your email inbox, just fill in the form below or send an email, and ask to be added, to  jmikeh@jmhowington.com