Spoiler Alert: Paul tells us how in Ephesians 4:2.
In the first three chapters of Paul' Epistle to the Ephesians, the Apostle taught Christians about the calling they have in Christ. Ephesians chapter 4 opens with the call for us to walk worthy of the calling to which Christ called us.
Ephesians 4:2
In easy English Ephesians 4:2 says "Do not think that you are better than other people. Always be kind and patient with each other. Love one another, so that you do not quickly become angry with each other."
How do we live a life worthy of the Christian calling? Verses 2 and 3 tells us how – by being completely humble, gentle, patient and bearing with one another in love.
Paul, in Ephesians 4:2 describes the character of a worthy walk with Christ as being all:
humility ("lowliness"),
and gentleness,
with patience ("longsuffering"),
and bearing with one another in love.
Such character endeavors to keep the unity of the Spirit in the bond of peace. (Ephesians 4:2, 3)
"It takes time for us as the Church to mature through all our differences stemming from culture, education, even personality. Therefore, Paul urges us to be completely humble and gentle; be patient." 1
Our attitude toward each other is to be completely humble, gentle, and free from arrogance (2 Corinthians 100:1; Ephesians 4:2). 2
Humility
The Ephesians, and all Christians, are to live in humility. Christ called us to live with the humility of a child (Matthew 18:4) and taught, "Whoever exalts himself will be humbled, and whoever humbles himself will be exalted" (Matthew 23:12).
Jesus was born in a humble manger, grew up in humble surroundings, lived a humble life, yet had a tremendous impact. Christ's followers are to likewise operate in humility.
To have humility is to be free from pride and arrogance. A humble person doesn't need to pretend to be something they are not. It's not about your ego. Rather than being self-centered, you are other-centered.
Humility is not thinking less of yourself, but thinking about yourself less. The less we think about ourselves, the more we can think about the needs of others or what they might be going through.
The less we think about ourselves, the more time we have to pray for others.
When we live with humility, we do not need to have all the focus on us. We are "other-driven".
Consider how much time you think about yourself, pray for yourself, groom yourself, and complain to others about how your needs are not met or how someone has done you wrong. Now how much time do you spend worried about your spouse's needs or your friend's needs or your co-workers or boss' needs. How much time to you spend concerned about your parents' or children's needs? How much time to spend praying for other people in your life? How much time do you spend complaining about your pastor rather than praying for him? It's time we thought about others.
Gentleness
A worthy walk before God will be marked by lowliness and gentleness, not a pushy desire to defend our own rights and advance our own agenda.
Before Christianity, the word "lowliness" always had a bad association to it. In the minds of many it still does; but it is a glorious Christian virtue (Philippians 2:1-10). It means that we can be happy and content when we are not in control or steering things our way.
Believers are to live with gentleness. Being gentle is part of the fruit of the Spirit (Galatians 5:23) and important in the life of every believer. This trait not only helps to avoid unnecessary conflict, it demonstrates the love we are meant to display at all times (John 13:34–35).
The fruit in Galatians 5:22-23 are "nine graces which make up the fruit of the Spirit – the life-style of those who are indwelt and energized by the Spirit. 3
Gentleness is the quality of being kind, tender, or mild-mannered. It does not mean being weak. Rather it is a polite and restrained behavior toward others.
Gentleness is setting aside pride, arguing, resentment and anger and being willing to forgive the faults and offenses of others. We need to remember our own offenses against God and that through his love, grace, and gentleness towards us, He forgives us. Therefore, how can our response be anything less in regards to the faults and offenses of others?
Patience
Believers are to exhibit patience. Patience is another part of the fruit of the Spirit (Galatians 5:22) and also a necessity if we are to show love to others. Elsewhere, Paul reminds believers that "love is patient." (1 Corinthians 13:4)
Patience is having the ability to endure – whether that is a tedious task, a trial, or an annoyance – without getting riled up.
If a person is patient, he is able to remain calm, even when you're stuck in rush hour traffic or you've been waiting in the drive-thru line or the checkout line at the store much longer than you wanted.
The patient person can face afflictions, pain, toil, calamity, provocation, temptations, or other evils and remain calm. Their temper does not flare. You won't hear them murmuring or complaining, and you'll not see them acting fretful or anxious. Instead, the patient person will persevere through every situation, learn and grow from it, and bear the fault of others without malice, anger, resentment or revenge.
We should enter into relationships with the expectation that people are not perfect. They will mess up, make mistakes, let us down, disappoint, and even hurt us.
If we are honest with ourselves, then each one of us can also think about a time where we messed up, made a mistake, let someone down, disappointed someone, or hurt another person. For this reason, we should be willing to make allowance for the faults of others, especially when Jesus has forgiven us.
Colossians 3:12-13 says, "Therefore, God's chosen ones, holy and loved, put on heartfelt compassion, kindness, humility, gentleness, and patience,accepting one another and forgiving one another if anyone has a complaint against another. Just as the Lord has forgiven you, so you must also forgive."
How do you react towards the faults of others particularly when they hurt you physically or emotionally? What if their fault came at a cost to you? In Ephesians 4:2, we find three fruits of the Spirit to tell us how we should handle the faults of others. Verse 2 tells us that we should be humble, gentle, and patient with the faults of others.
Living with humility, gentleness, and patience is hard. Here are three reasons this is difficult:
Because we always tend to look out for ourselves. Our human nature tends to lean toward self-protection and our natural reaction to being wronged or hurt is to put up our defenses and demand retribution.
We point our finger at other people's faults so that our faults don't look so bad. If we can show the other person in a worse light than ourselves, then everyone's attention will be on the bigger fault of the other person and we can keep ours tucked away, unseen or at least forgotten.
We place the blame on their faults so that we don't have to feel guilty for our own. None of us like the feeling of knowing we are guilty. So, when tensions arise in relationships, we look for where we can blame others to either justify our own actions or so that we can say, "I might have been wrong, but not as wrong as she was!"
The only problem with all three of these excuses is that God sees and knows everything. God doesn't look at our sin and compare it with some else's. To God, sin is sin. Sin doesn't come in small, medium, large and extra-large.
Believers are to live with love toward one another. Paul has mentioned this in Ephesians and other letters, especially in 1 Corinthians 13 where the "greatest of [God's gifts] is love." Particularly as it is used in the New Testament, "love" is not merely a feeling or an emotion. It means taking actions which benefit others. A feeling which doesn't result in action is not biblical "love."
How many times we might have thought or might have said, "I don't have to put up with this!!! I don't have to tolerate this!"
Actually, we do. We are to tolerate one another. We are bear with one another. We are to put up with each other.
Now we might hear this and think that we are doing this all the time. "Oh, I put up with a lot! I put up with my neighbor. I put up with my spouse. I put up with my parents. I put up with my coworkers. I put up with my boss." But are we enduring and tolerating one another the way God said to?
We might be putting up with people but are we putting up with one another the way God told us to? Read what Paul says in Ephesians 4 again and notice how we are supposed to put up with each other. We are to walk "bearing with one another in love." We are not to just put up with each other. Rather, we are to put up with each other in love. That is something very different.
When we put up with each other without love, then the result is grudges, resentment, hate, and a general dislike for others. Our failure to bear with one another in love is why strife occurs in relationships, marriages fail, and churches split.
We need to admit that people are going to irritate us. It is hard to imagine, but you irritate people sometimes too. We would like to think that everyone else is the problem. But we need to consider that the problem is us.
Can you imagine living with you? Can you imagine being around you with all of our quirks and idiosyncrasies? We must stop living with unreasonable expectations of others, especially as we don't place these expectations on ourselves. We are all different from each other and we are going to irritate one another. You are going to be irritating to others.
Bearing with one another in love means that we will not stop loving each other because of their faults. Bearing with one another in love is a two-way street. You think you are putting up with that person in love but, guess what, they are putting up with you in love just as much! There is always something that we are bearing with each other about.
The body of Christ must be a safe place where our offenses and mistakes with each other are quickly forgotten. It is terrible when the children of God bear grudges and hurts toward each other! We must remember that all of us have rubbed each other the wrong way, made mistakes, done hurtful things, and said the wrong thing at the wrong time. But we are to bear with each other in love. The apostle Paul told the Corinthians that love "bears all things" (1 Corinthians 13:7) and "does not keep a record of wrongs (13:7). Love is not resentful.
We need longsuffering and the bearing with one another so that the inevitable wrongs that occur between people in God's family will not work against God's purpose of bringing all things together in Jesus – illustrated through Christ's current work in the church.
"Longsuffering" is spirit that has the power to take revenge, but never does. It is characteristic of a forgiving, generous heart.
______________Affiliate link – SHOP: _______________
_This ad is for my favorite version of The Bible _
_____but click on it to go to the whole store______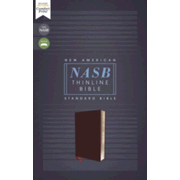 NASB Comfort Print Thinline Bible, Red Letter Edition–bonded leather, burgundy (click here)
By Zondervan


The beloved 1995 Edition of the New American Standard Bible is now easier to read with Zondervan's exclusive NASB Comfort Print® typeface. This edition of the NASB Thinline Bibles is available in a variety of sophisticated designs in a portable, easy-to-read format.
Features:

The full text of the New American Standard Bible, 1995 Edition
Exquisite, durable covers
Less than one inch thick
Double-column format
Presentation page
Two satin ribbon markers
Words of Christ in red
Exclusive Zondervan NASB Comfort Print 9 point type
____________________________________________
Ephesians 4:2 – with all humility and gentleness, with patience, showing tolerance for one another in love. (NASB)

God never said our lives would be carefree and easy. But His Word does tell us how to live and work together and to help each other through the many displeasures and frightening circumstances that may come along.
To receive the Daily Bread email messages, free on Mon., Wed., and Fri., in your email inbox, just fill in the form below or send an email, and ask to be added, to  jmikeh@jmhowington.com  
References:
, pg. 480.
Stanley M. Horton, general editor, Systematic Theology (Springfield, MO: Legion Press, 1994), pg. 482.
F. F. Bruce, Commentary on Galatians, (Grand Rapids, MI: Wm. B. Eerdmans, 1982), pg. 251.