In Peter's first Epistle, chapter 4, he tells us that God wants us to prepare ourselves for the end-of-times coming disaster. He explains that everything in the world is about to be wrapped up, so we should take anything for granted. Most of all, we should love each other as if our life depended on it. Love makes up for practically anything.
Peter tells us to be hospitable to one another without grumbling: Love will show itself in hospitality. Christians should often open their homes to others and do it all without grumbling.
"Without grumbling' is a frank recognition that the practice of hospitality could become costly, burdensome, and irritating. The Greek term denotes muttering or low speaking as a sign of displeasure. It depicts a spirit that is the opposite of cheerfulness."1
1 Peter 4:9 very simply says to be hospitable without complaint. This command is rooted in the attitude of God toward us.
______________Affiliate link – SHOP: _______________
_This ad is for my favorite version of The Bible _
_____but click on it to go to the whole store______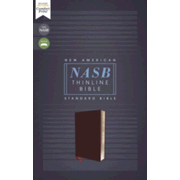 NASB Comfort Print Thinline Bible, Red Letter Edition–bonded leather, burgundy (click here)
By Zondervan


The beloved 1995 Edition of the New American Standard Bible is now easier to read with Zondervan's exclusive NASB Comfort Print® typeface. This edition of the NASB Thinline Bibles is available in a variety of sophisticated designs in a portable, easy-to-read format.
Features:

The full text of the New American Standard Bible, 1995 Edition
Exquisite, durable covers
Less than one inch thick
Double-column format
Presentation page
Two satin ribbon markers
Words of Christ in red
Exclusive Zondervan NASB Comfort Print 9 point type
____________________________________________
Consider what the Daily Bread email message sent on 6/16/2008 and 5/26/2023 says,
1 Peter 4:9 – Be hospitable to one another without complaint. (NASB)
Be courteous, kind, and gracious.  Use good manners and clothe yourselves with humility toward one another (1 Peter 5:5).  Of the three great gifts (faith, hope, and love), love is the greatest (1 Corinthians 13:13) and a characteristic of love described in the "love chapter," in 1 Corinthians chapter 13 is that it is not rude.
You Can Receive The Daily Bread, for FREE.
To receive the Daily Bread email messages, free on Mon., Wed., and Fri., in your email inbox, just fill in the form below or send an email, and ask to be added, to  jmikeh@jmhowington.com  
References:
David Edmond Hiebert, 1 Peter, (River North, Chicago, IL: Moody Publishers, 1992), pg. 272