Isaiah chapter 40 is designed to take your focus away from everything else and consider the Sovereign Lord, the one true, Living God. The chapter begins with a message of comfort and redemption from the Lord (verses 1, 2). It points to the coming of Christ and good news (9-11).
The most important lesson we can learn from Isaiah 40 is that God will be with us in all the difficult circumstances of life.
Having Confidence in God's Power and Wisdom.
Having spent all of Isaiah 40 showing us the greatness and the glory of God, Isaiah now, beginning in verse 27 shows us how understanding that God "never faints nor is weary" makes a difference in our lives – beyond the obvious compulsion we should feel to honor and worship this great God!
Understanding the greatness and glory of God persuades us that there is nothing in our life hidden from God, and there is nothing neglected by God.
But the people who doubted there was a God who created all ask, "Is 'My way is hidden from the Lord, and my just claim is passed over by my God?'" (Isaiah 40:27) The ones asking the question in this verse seem to know there is a creator, but live as practical atheists. They don't seem to understand that the fact there is a God of all creation does make a difference in everyday life.
Wolf remarked, "How easy it is to believe in the infinite power of God and at the same time to feel that He is unable to meet our personal needs!" 1
These practical atheists need to hear what they already know: that the Lord God is the Creator of the ends of the earth. Then they need to hear about the Creator: that He neither faints nor is weary. His understanding is unsearchable. Those who believe these truths about God should live as if God is really there.
______________Affiliate link – SHOP: _______________
_This ad is for my favorite version of The Bible _
_____but click on it to go to the whole store______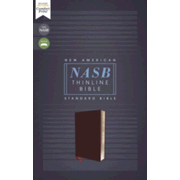 NASB Comfort Print Thinline Bible, Red Letter Edition–bonded leather, burgundy (click here)
By Zondervan


The beloved 1995 Edition of the New American Standard Bible is now easier to read with Zondervan's exclusive NASB Comfort Print® typeface. This edition of the NASB Thinline Bibles is available in a variety of sophisticated designs in a portable, easy-to-read format.
Features:

The full text of the New American Standard Bible, 1995 Edition
Exquisite, durable covers
Less than one inch thick
Double-column format
Presentation page
Two satin ribbon markers
Words of Christ in red
Exclusive Zondervan NASB Comfort Print 9 point type
____________________________________________
In conclusion, consider what the Daily Bread email message sent on 12/12/2002, 3/25/2005, and 5/29/2023 says,
Isaiah 40:27 – Why do you say, O Jacob, and assert, O Israel,
"My way is hidden from the Lord, and the justice due me escapes the notice of my God?" (NASB)
Isaiah's question to the disillusioned rebukes our wrong thoughts about ourselves.  God has not abandoned us.  He never abandons anyone on whom He has set His love; nor does Christ the Good Shepherd, ever lose track of His sheep.  It is false and irreverent to accuse God of forgetting or overlooking, or losing interest in, the state and needs of His children.  When you wonder if God has left you high and dry, seek grace and be ashamed of yourself.  Such unbelieving pessimism deeply dishonors our great God and Savior.
To receive the Daily Bread email messages, free on Mon., Wed., and Fri., in your email inbox, just fill in the form below or send an email, and ask to be added, to  jmikeh@jmhowington.com  
References:
Herbert M Wolf, Interpreting Isaiah, (Grand Rapids, MI: Zondervan Academic, 7/26/1985), pg. 201.