At the very least, you should offer a prayer of thanks for them.
Paul wrote to the believers in Philippi, with whom he shared a close partnership and special affection, and he thanked God for the blessings of bringing the Philippians into his life.
Prayer for other Christians is a source of strength and support and makes a difference in their lives.
<!—WordPress theme is not consistent in h2 style -->
Philippians 1:3, 4 – Paul Thanks God For the Love and Support from the Philippians
When Paul remembered what all the Philippians did for him, he was extremely thankful. He was naturally grateful to the Philippians, but more so to God who had worked such kindness through the Philippians.
The Philippians were extremely giving towards Paul, both when he was with them (Acts 16:15, 16:32-34) and when he was apart from them (2 Corinthians 8:1-7, 9:1-4, and 11:9).
Paul prayed for the Philippians and he did so with joy. This was one way Paul felt he could repay the Philippians for all they did for him.
One might simply say that when Paul prayed for the Philippians, he became happy. It is remarkable to see that Paul's first reference to his own feelings or frame of mind in this letter is that of joy – though he wrote from prison and a possible soon execution.
The believers in Philippi were permanently etched with indelible ink in Paul's mind, and in the most positive way as he says, "As I think of you, I just keep offering thanks to God for you." No doubt Paul is thinking how responsive to the Lord they were, how eager they were to take in the word of God.
<!—WordPress theme is not consistent in h2 style -->
Pray For The People Around Us
Ask God for help. Help us to pause and thank Him for those people. Pray with joy for them. If they are God's followers, we must pray that He would help us to pray for their growth in Christ.
So regardless, when people come to your mind, let that be a prompt from God to pray for those people. To thank God for those people. To pray with joy for those people.
<!—WordPress theme is not consistent in h2 style -->
A Confident Future
Paul expresses his confidence because he is sure that the Philippians will continue along this road. And as they do so, so also God will work powerfully in their lives to change and transform them, causing love to overflow from them.
"He who began a good work in us, will perfect it until the day of Christ Jesus." is our confidence in salvation: not that we are so good that we will never fall away. Our confidence is in the fact that God is working in us; God is keeping us; God is perfecting us; and He has promised to finish that work.
<!—WordPress theme is not consistent in h2 style -->
Paul Thanks God Constantly
Specifically, he thanks God constantly, in every prayer, for what the Philippian church has been able to do. His expression of thanksgiving is all–inclusive, using "always," "every," and "all." Again, prayer is key, mentioned twice in this verse.
In verse 5, Paul notes the joy he receives from the Philippian church. In this verse, he refers to the major source of this joy: "partnership." These believers had been helping Paul to spread the gospel since they first became believers. This letter was written some 12 years after the founding of the Philippian church in approximately AD 49.
______________Affiliate link – SHOP: _______________
_This ad is for my favorite version of The Bible _
_____but click on it to go to the whole store______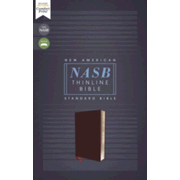 NASB Comfort Print Thinline Bible, Red Letter Edition–bonded leather, burgundy (click here)
By Zondervan


The beloved 1995 Edition of the New American Standard Bible is now easier to read with Zondervan's exclusive NASB Comfort Print® typeface. This edition of the NASB Thinline Bibles is available in a variety of sophisticated designs in a portable, easy-to-read format.
Features:

The full text of the New American Standard Bible, 1995 Edition
Exquisite, durable covers
Less than one inch thick
Double-column format
Presentation page
Two satin ribbon markers
Words of Christ in red
Exclusive Zondervan NASB Comfort Print 9 point type
____________________________________________
In conclusion, praying for the Christians around us is not only a thoughtful act but also a powerful way to support and uplift our fellow believers. By interceding on their behalf, we demonstrate our love and care for them, while also inviting God's blessings and protection upon their lives. Whether it's in times of joy or struggle, our prayers have the potential to make a significant impact on the lives of those around us. So, let us not hesitate to lift up our brothers and sisters in Christ, knowing that our prayers have the ability to bring comfort, strength, and encouragement to their hearts.
<!—WordPress theme is not consistent in h2 style -->
Consider the Daily Bread email message sent on 2/18/2009 and 10/25/2023 which says,
Philippians 1:3, 4 – I thank my God in all my remembrance of you, always offering prayer with joy in my every prayer for you all, (NASB)
<!—WordPress theme is not consistent in h2 style -->
You Can Receive The Daily Bread, for FREE
To receive the Daily Bread email messages, free on Mon., Wed., and Fri., in your email inbox, just fill in the form below or send an email, and ask to be added, to jmikeh@jmhowington.com
Click Here to Scroll To Top of the Page